Professor Sabiha Essack (South Africa)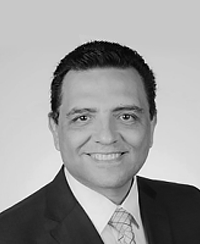 Dr Sergio Caretta
Dr Sergio Caretta is founder and director of the Center for Respiratory Disease in the State of Mexico, and Vice president and President-to-be of the Mexican Society of Otolaryngology Head and neck surgery.   A clinical Otolaryngology-Head and neck Surgeon (OHNS) trained in Mexico and USA, he was Head of the Ward of OHNS at the Central Military Hospital, the third level medical attention facility of the Army and Air Force in Mexico for several years.  He is also the founder and director of the Virtual Network "Airway 360", intended for the education of first contact respiratory physicians.
Dr Caretta has been an invited speaker for many national and international conferences, and in 2018, was the chairman of the National Congress of the Mexican Society of OHNS, a broad international meeting. 
"ANTIBIOTIC RESISTANCE DUE TO IMPROPER USE, IS A CLEAR AND PRESENT DANGER FOR HUMANITY"
Author of a textbook on complications in OHNS and several scientific communications, his institutional work has been focused on mass medical education, using e-learning as the principal tool, in the unified airway concept for physicians involved in the care of respiratory disease and proper antibiotic use. 
His clinical and institutional interests include:
Use of technology as a facilitator of medical education in developing countries (holographic conferences, e-learning, Smart phone applications)
Mass education for first contact physicians in the appropriate use of antibiotics
Public awareness campaigns to create a change in antibiotic prescription patterns in developing countries