Discussion
Defining the focus of initiatives for 2015
The 5P framework for the non-antibiotic management of URTIs
The five-part framework is an innovation that was developed to highlight key areas of focus for antibiotic stewardship to include prescribers, pharmacy staff, patients, policy and prevention. The framework presents rationale for focusing on URTIs to promote appropriate antibiotic use in primary care.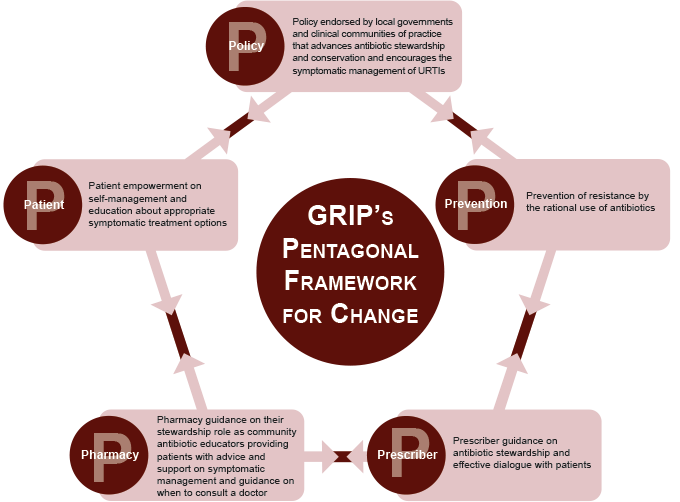 Figure 2: The GRIP's pentagonal framework for change encompasses five key areas—Policy, Prevention, Prescriber, Pharmacy and Patient
Patients
Following the success of the 2014 activations, the group discussed priorities looking forward. GRIP discussed which part of the 5P framework initiatives should be the focus in 2015 and had varying thoughts, especially since the barriers to behaviour vary dramatically across and within countries. However, it was determined that patients should be the focus of 2015 – either by producing materials that target them directly, or by developing pharmacy materials that can be used during patient consultations. A patient-centred approach within consultations includes identifying concerns and expectations, providing education on the appropriate use of antibiotics and the natural duration of the condition. It also includes discussing suitable symptomatic relief options and when patients should see their doctor.
It was decided that to induce behavior change among patients, future materials should focus on:
The dire consequences that antibiotic resistance has on public health
Typical duration of symptoms for viral infections
Options for symptomatic relief
Side effects associated with antibiotics, including their effects on internal flora
Red flags for easy identification of patients who require referral
Medical students
The panel discussed the possibility of prioritising the education of students on antibiotic awareness. The group highlighted that it can be difficult for medical students to rule out a serious illness and diagnose a URTI. By educating these students on red flag symptoms and when prescribing an antibiotic is suitable, it is hoped that they will be more likely to practice appropriate management. Professor Essack furthered this point by saying that diagnosis of URTIs and how to treat them should be of higher priority on medical students' curricula.
It was decided there should be education for all young people with a focus on making medical and pharmacy students champions of stewardship. It was highlighted that while it can be difficult to change the curriculum of a university course, students could be provided with educational awards for their input on antibiotic resistance awareness.