Professor John Oxford (UK)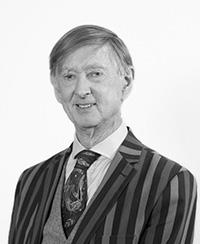 Professor John Oxford
UK
British-born John Oxford is a Professor of Virology at St Bartholomew's and the Royal London Hospital, Queen Mary's School of Medicine and Dentistry.
"WHEN ALEXANDER FLEMING FIRST DISCOVERED PENICILLIN OVER 70 YEARS AGO, HE PREDICTED THAT MICROBES' DARWINIAN ABILITY TO EVOLVE AND SURVIVE WOULD RESULT IN THE DEVELOPMENT OF ANTIBIOTIC RESISTANCE"
Professor Oxford was fortunate in his early career to work under Sir Charles Stuart-Harris, who in 1933 had isolated the influenza virus and who was a great inspiration to the young John Oxford.
Professor Oxford then moved to Canberra to work under Professor Graeme Laver, whose work with the crystallization of the influenza protein formed the basis for the development of Tamiflu.
He has co-authored two standard texts: 'Influenza, the Viruses and the Disease' with Sir Charles Stuart-Harris and G.C. Schild and most recently 'Human Virology, a Text for Students of Medicine, Dentistry and Microbiology' now in its fourth edition, published by Oxford University Press. Professor Oxford has also published 250 scientific papers. His research interest is the pathogenicity of influenza, in particular the 1918 Spanish Influenza strain, which he combines with conducting clinical trials using new influenza vaccines and antiviral drugs. This research has been featured on Science TV programmes recently in the UK, USA, Germany and Holland. He also makes time to give numerous interviews on BBC Radio and Television, and is a frequent contributor to the BBC News website.
He is also President, Scientific Director and founder of the college research virology company called Retroscreen Virology Ltd (www.retroscreen.com), which he established in 1989 with the help of EU funding. Retroscreen Virology has grown into Europe's leading contract virology research company. Its work is dedicated to creating the next generation of antivirals and vaccines in the field of biomedical research. It is the only company in the UK able to conduct human influenza challenge studies in a specialised quarantine unit with A/Panama/2007/99 and A/New Caledonia/20/99 viruses and has characterised influenza A (H1N1 and H3N2) and B viruses.