Dr Ashok Mahashur (India)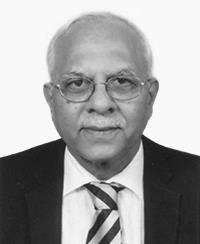 Dr Ashok Mahashur
India
Dr Ashok Mahashur is a Consultant Chest Physician currently based in Mumbai, India, and has been the President of the Indian Chest Society since 2006. With many years of clinical and teaching experience, he is also a postgraduate teacher on respiratory medicine at the University of Mumbai, as well as being a Member of the Board of Studies at the Banaras Hindu University.
With more than 120 scientific and research publications, including contributions to several medical books, Dr Mahashur serves on the editorial boards for numerous biomedical journals, such as the Journal of the American Medical Association and the Indian Journal of Chest Diseases, in addition to being Editor of Thorax (India).
His research projects are mainly environmentally focused – the most notable being his involvement with the methyl isocyanate gas leak in Bhopal in 1984, where he was part of the medical team who visited the site in Bhopal.
Dr Mahashur was awarded the Lupin Gold Medal oration by Andhra Pradesh Tuberculosis Association in 1992, and has been awarded Fellowships from the Royal College of Physicians and Surgeons of Glasgow, the Indian College of Physicians, the American College of Chest Physicians and the National College of Chest Physicians. Furthermore, he has been an invited speaker for many national conferences, and most recently, he was the Organising Chairman for the National Conference on Tuberculosis and Chest Diseases in 2014.
"ANTIBIOTIC RESISTANCE IS A GLOBAL CONCERN AND IS PARTICULARLY PRESSING IN DEVELOPING NATIONS, INCLUDING INDIA WHERE THE BURDEN OF INFECTIOUS DISEASE IS HIGH AND HEALTHCARE SPENDING IS LOW. THERE IS A NEED TO EDUCATE MEDICAL PROFESSIONALS AND PATIENTS ABOUT THE RATIONAL USE OF ANTIBIOTICS, AND THE CONSEQUENCES OF INAPPROPRIATE USE, BOTH ON PATIENTS AND MICROORGANISMS."