12TH FEBRUARY 2020 – CENTRO DE CONVENCIONES Y AUDITORIO CINIA GONZALEZ DIEZ
GRIP MEMBERS WERE INVITED TO PRESENT AT THE SMORLCCC TRAINING MEETING, 'ANTIMICROBIAL RESISTANCE IN MEXICO AND LATIN AMERICA. CHALLENGES, TOOLS AND OPPORTUNITIES'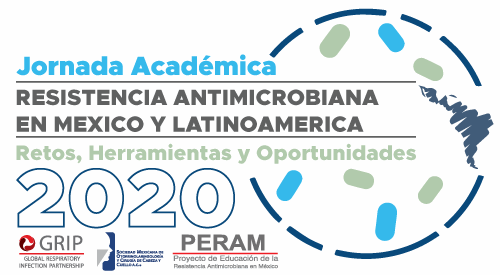 SMORLCCC President and GRIP member Dr Sergio Caretta, hosted a training event aimed at GPs and pharmacists to discuss the challenges and opportunities associated with antimicrobial resistance.
The audience, which was made up of around 300 healthcare professionals, were invited to hear about Global initiatives and were given practical tools to aid stewardship on the topic, including a number of examples from across Latin America.
GRIP presented sessions on:
Global scale of the AMR problem
Overview of the AMR challenges in LATAM
Overview of GRIP & 5P framework
Why policy is important in addressing AMR
Why the patient is important in addressing AMR and how patient needs are often misunderstood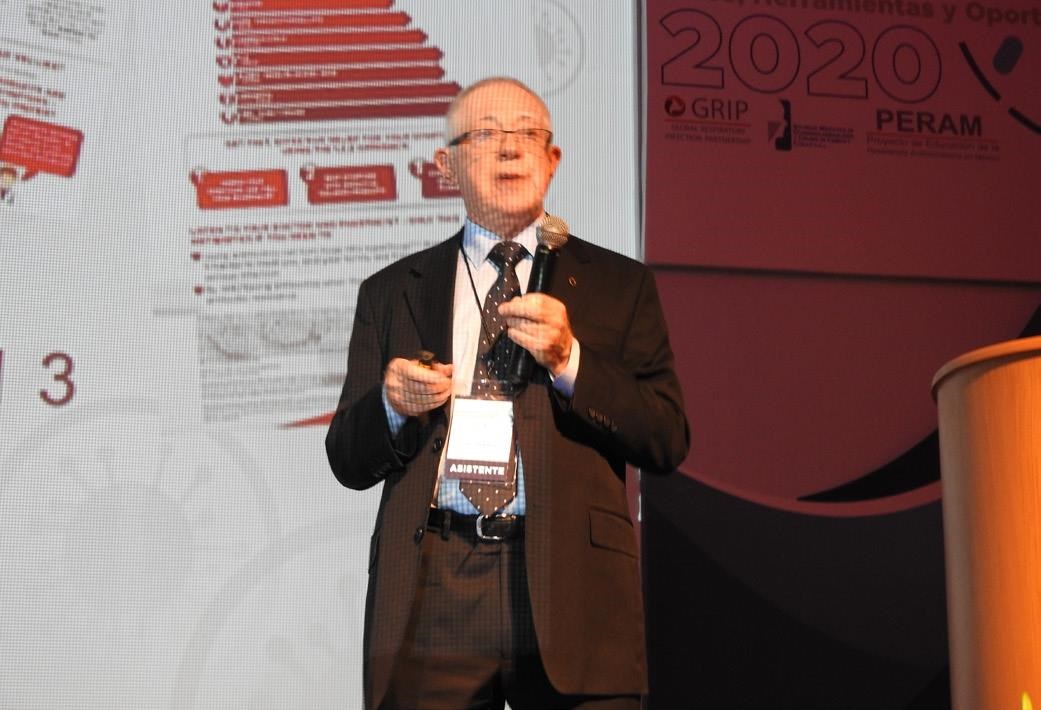 Mr John Bell presenting 'A Brief History of GRIP'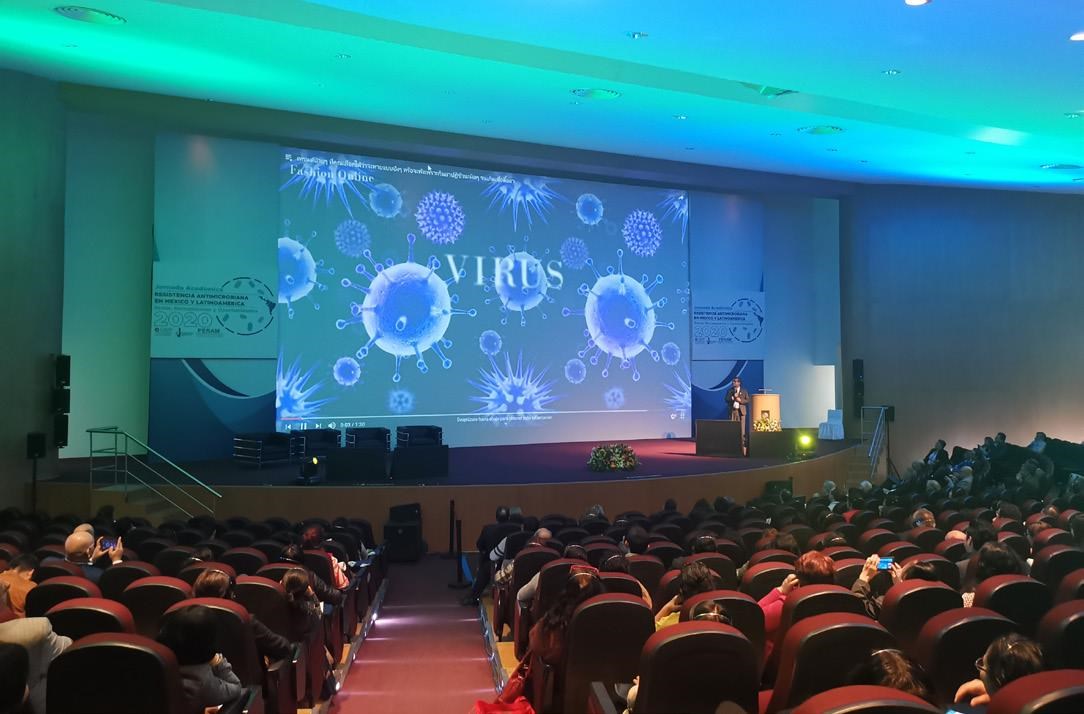 Dr Wirat Tongrod presenting a successful campaign from Thailand aimed at educating the general public on antibiotic awareness
Call to Action for LATAM AMR Group
Following the morning training event on AMR, Dr Sergio Caretta chaired an engaging session with members of the key ENT associations from Columbia, Chile, Argentina, Brazil, Bolivia, Uruguay and Mexico alongside GRIP members and national medical organisations.
Among the Association representatives there was broad agreements on the challenges of AMR, with education seen as the leading opportunities to control inappropriate antibiotic usage, among HCPs and patients. Managing access was also important, with a number of countries still reporting relatively easy access to antibiotics, while the need to enhance monitoring of prescribing behaviours.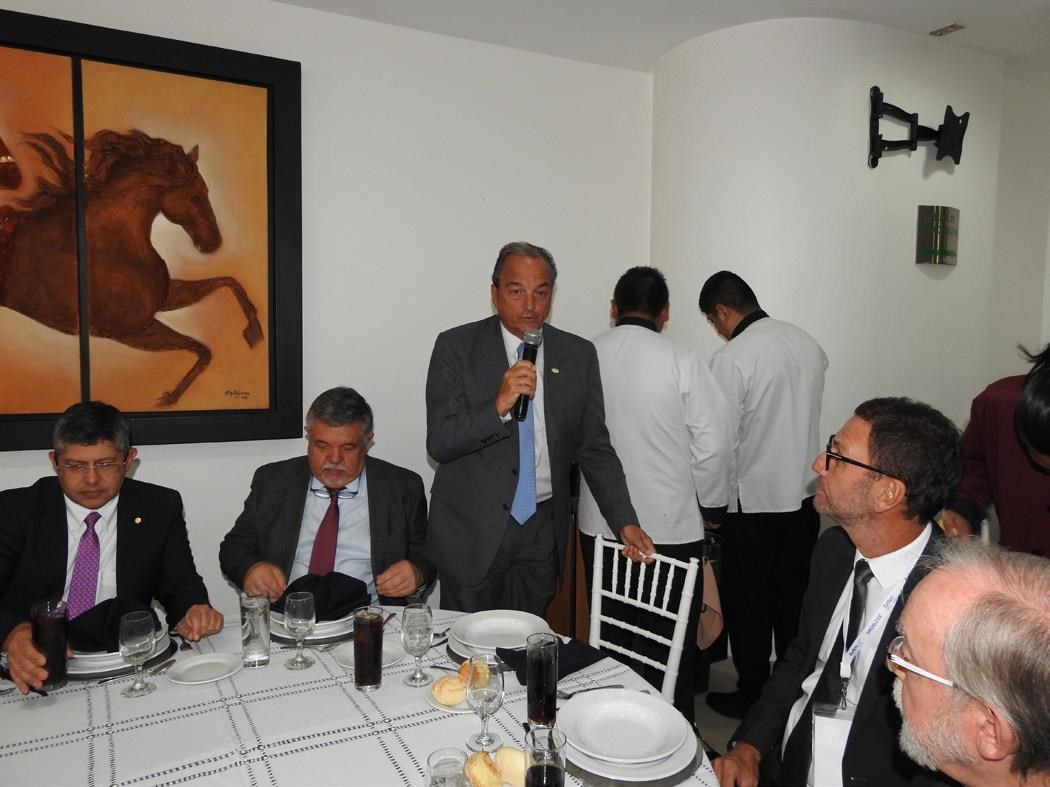 From left to right: Dr. Ricardo Silva Rueda (Colombia), Dr. Carlos Tapia Martinic (Chile), Dr. Jose Ernesto Cafaro (Argentina),
Dr. Geraldo Druck Sant´Anna (Brazil), Prof. Antonio C. Pignatari (Brazil)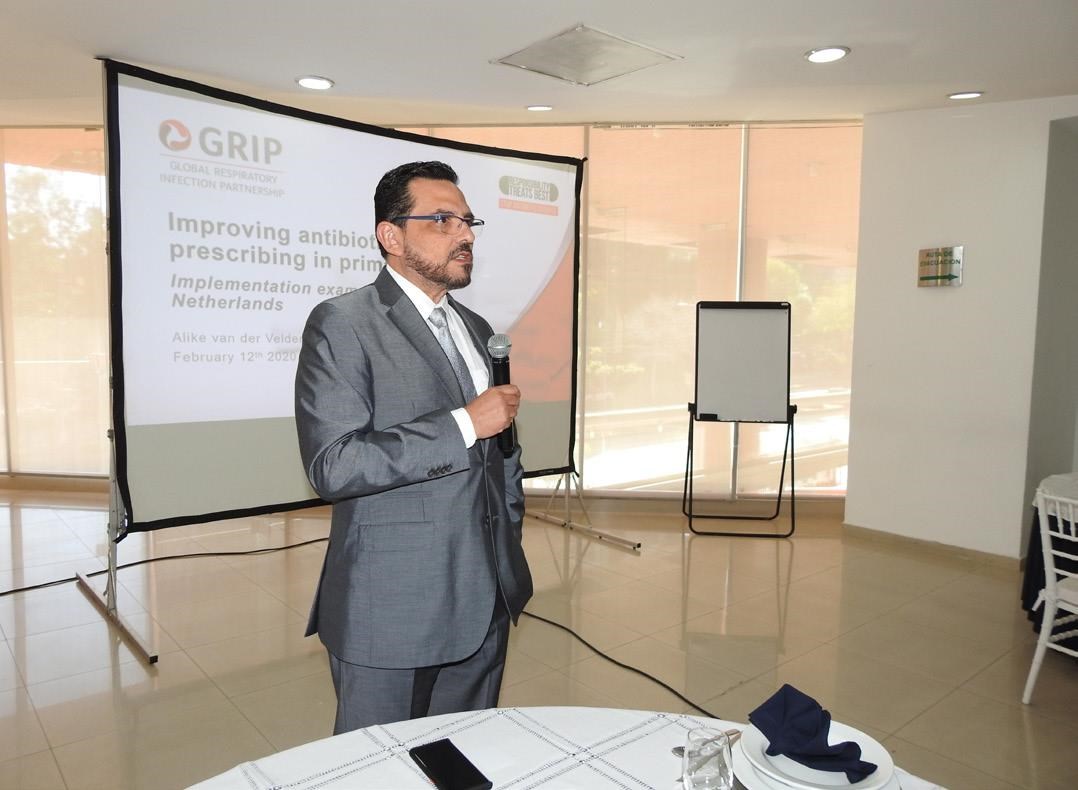 Dr Caretta outlining a vision for the future
Leading the call for a greater LATAM effort, Dr Caretta outlined a five point vision for the future:
Create National Advisory Boards around AMR, comprising multidisciplinary experts, championed by ENTs or infectious disease specialists
Increase HCP education and encourage participation through nationwide campaigns that drive and reward the responsible use of antibiotics among HCPs
Commit to including AMR on all national congress agendas, increasing discussion by 10-15%
Create LATAM specific Upper Respiratory Tract Infection guidelines
Launch a Responsible use of Antibiotics campaign for consumers
"Consumer education goes hand in hand with more HCP education," concluded Dr Caretta: "We need to reach GPs, medical students, and our global population. We need to commit to specific activities and have a follow up in 1-2 years to see how we are advancing the discussion and understanding of AMR."
Leading the call for a greater LATAM effort, Dr Caretta outlined a five point vision for the future:
Create National Advisory Boards around AMR, comprising multidisciplinary experts, championed by ENTs or infectious disease specialists
Increase HCP education and encourage participation through nationwide campaigns that drive and reward the responsible use of antibiotics among HCPs
Commit to including AMR on all national congress agendas, increasing discussion by 10-15%
Create LATAM specific Upper Respiratory Tract Infection guidelines
Launch a Responsible use of Antibiotics campaign for consumers
"Consumer education goes hand in hand with more HCP education," concluded Dr Caretta: "We need to reach GPs, medical students, and our global population. We need to commit to specific activities and have a follow up in 1-2 years to see how we are advancing the discussion and understanding of AMR."
"It is really just the beginning of a journey for LATAM which holds much promise for the future if countries can continue to work together for the support of mankind"
 Dr Sergio Caretta, SMORLCCC President, and GRIP member