2015 Localisation
In 2015, GRIP further accelerated its efforts with a number of global and local activations, with the aim of increasing the visibility and use of the pentagonal 5Ps framework for antimicrobial stewardship, an interlinking, flexible framework comprising five key areas – Policy, Prevention, Prescriber, Pharmacy and Patient.
Patient Pathway Research
Presented by Mr Adrian Shephard
In 2015, global patient pathway research, commissioned by RB, was carried out across 33 countries and investigated why patients visit HCPs for URTI, who they consult, the result of the visit (recommendation, prescription) and antibiotic use. The research showed that globally 47% contacted a doctor for their URTI.
The most common reasons for consulting any doctor for URTI are:
"I needed a prescription"
25%
"This person is the expert"
23%
"This person knows my medical history"
21%
"This is the person I trust the most"
21%
These figures highlight the importance of trust in consultation and the critical stewardship and educational role HCPs are able to play.
For those consulting any physician for URTI, 18% of patients receive an antibiotic.
GRIP members presented at a number of conferences to drive the localisation agreed upon in 2015. A number of interviews with GRIP members were filmed at these conferences; to watch the interview highlights please visit the GRIP website www.GRIP-initiative.org
American Cough Conference (ACC)
The 5th ACC was held in Washington, DC in June. The conference focused on the past, present and future of cough research, its evaluation and management. Dr van der Velden gave an oral presentation highlighting the key role HCPs can play in reducing inappropriate antibiotic prescriptions for cough and URTIs through exploring patient expectations and educating patients on symptomatic treatment options. Dr van der Velden presented data showing 20% of patients expect a prescription for uncomplicated cough once they consult and HCP. Based on patient recollection research, one third of all cough incidences resulted in antibiotic use. Coordinated professional education is required for effective implementation of antibiotic stewardship. The GRIP 5Ps framework and associated resources could be one such support.
World Congress and Exhibition on Antibiotics (WCEA)
The WCEA conference was held in Las Vegas, USA in September of 2016. It focused on the opportunities and challenges associated with antibiotic resistance and antibiotic effectiveness as a renewable resource. Dr Duerden presented on the global challenge of AMR and the problem of prescribing antibiotics for URTIs in UK primary care and on evidence that many of these prescriptions were inappropriate. Dr Duerden showed data from a UK patient survey conducted by RB. It found 25% of those who consulted a GP for a URTI said they received an antibiotic. This highlights the need for patient and HCP education on appropriate management and the effectiveness of OTC options. GRIP's 5Ps framework and 1,2,3 approach which enables primary care to take an evidencebased, non-antibiotic approach in the management of URTIs was then highlighted. Dr Duerden noted that the GRIP 1,2,3 approach could be used to improve consultations with patients.
Dr Burgoyne presented on the role that managed care and cost of antibiotics can play in facilitating inappropriate antibiotic prescriptions (covered in greater detail below). He also talked of the geographical comparisons in HCP consultations and antibiotic prescription rates. In the US, 28% of those who consulted with a physician for a URTI said they received an antibiotic.
International Pharmaceutical Federation (FIP)
At the 2015 FIP conference, held in Dusseldorf, Germany, Mr Bell gave a poster presentation on the role of community pharmacists in the management of antibiotics stewardship. Data show that there is a significant likelihood that URTI patients who present to a physician will obtain an antibiotic. Pharmacy teams are ideally placed to provide advice to patients and offer alternate effective, symptomatic relief. Behaviour change requires an integrated approach across all HCPs, highlighted in GRIP's 5Ps framework. There is also a need for effective dialogue between HCPs and patients, which can be aided by the implementation of GRIP's 1,2,3 approach: address patient concerns, assess severity and counsel on effective self-management.
World Organization of National Colleges, Academies and academic Associations of General Practitioners / Family physicians (WONCA)
The 2015 WONCA conference was held in Istanbul, Turkey. Mr Shephard, Senior Global Professional Relations Manager at RB, reported that 18% of patients consulting GPs were prescribed antibiotics for a URTI. Trust in the HCP/GP was reported as the key reason for consulting with URTIs, as well as the desire for a prescription. GPs have the opportunity to play a pivotal role in antimicrobial stewardship, through provision of information, advice and effective symptomatic treatment options.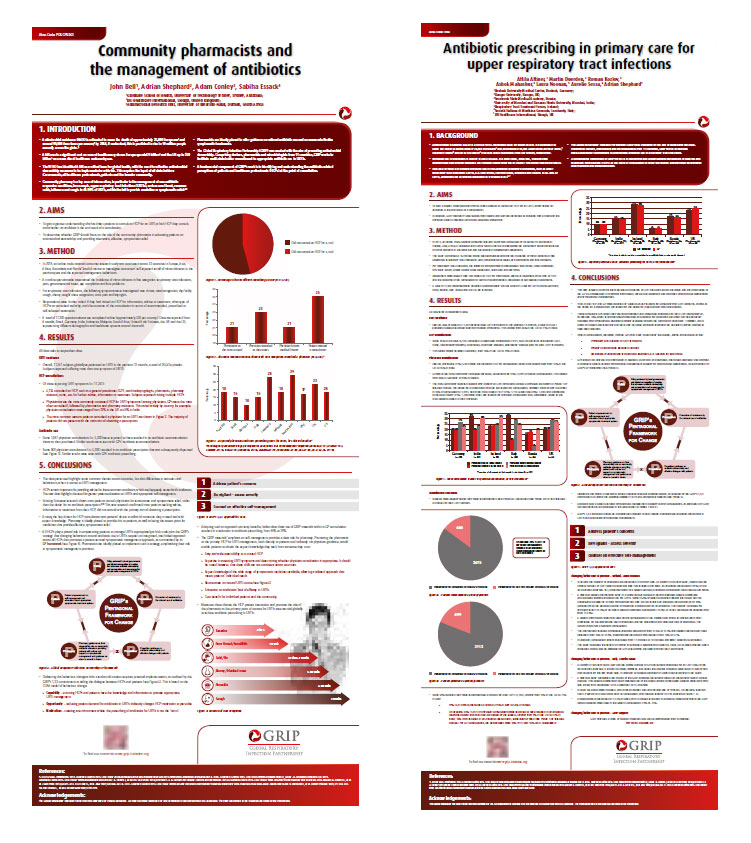 Patient Perspectives on the Use of Antibiotics to Treat Colds
Presented by Ms Johnelle Whipple, with Support from Dr Burgoyne
In 2015, RB conducted a consumer survey to understand perspectives, strategies and knowledge about the use of antibiotics to treat colds. Key questions were on participant knowledge base, treatment-seeking behaviour and assessment of the disconnect between patients and HCPs.
Results showed that patients understood the basics – the majority of respondees knew that viruses cause colds, that antibiotics do not treat viruses and that it's important to finish an antibiotic prescription. However, patients have unrealistic expectations on the duration that cold symptoms may last (four to five days), and assume that their illness is something more serious after this time frame. The survey also highlighted that patients make assumptions of their illness based on certain terminology; they may also regard fever or yellow or green mucus as a sign of bacterial infection, signalling a need for antibiotics.
However, most patients do not go to their HCP to ask for an antibiotic. Patients are mainly seeking reassurance that they do not have something more serious than a cold. Patients trust their HCPs and are open to the solution the HCP recommends, even if this is not a prescription for an antibiotic but an over-the-counter (OTC) treatment. Symptom resolution is imperative, and patients become impatient if these are not controlled rapidly which may trigger demand for antibiotics. HCPs face a challenge in counteracting these demands and are thus more likely to prescribe antibiotics.
The results of this small survey highlight that patients have a reasonable degree of knowledge about what causes URTI, however HCPs could improve this by spending more time on education, reassurance and advice. Providing patients with information on symptom duration and alternative treatment choices (symptomatic relief rather than antibiotics) for URTI management could reduce antibiotic-prescribing rates.
Bob Junior
Presented by Mr Shephard
Following on from the positive response to the Bob patient video released last year, GRIP has developed another patient video to raise awareness of typical URTI symptom duration and the role pharmacists can play in the appropriate management of URTI. This video again follows the character of Bob with the focus on his family and in particular, his son Bob Junior. In the video Bob Junior is suffering from a sore throat and a cough. The video explains the role of the pharmacist in recommending effective symptomatic relief and appropriate treatment to parents, to prevent inappropriate antibiotic use in children. The video can be downloaded here: www.GRIP-initiative.org/resources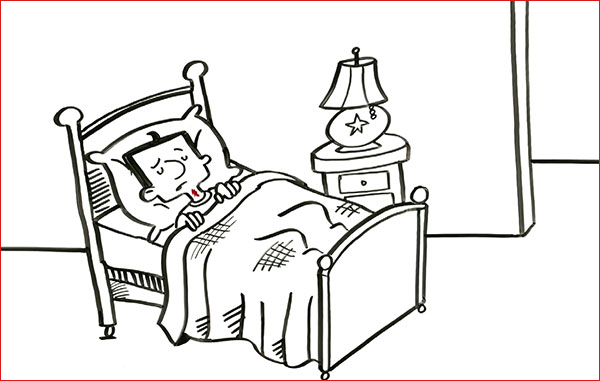 Policy as a Driver for Antibiotic Prescribing in the US
Presented by Dr Burgoyne
Dr Burgoyne highlighted that antibiotic use for URTIs is high in the US. A study in individuals over five years of age showed acute RTI-associated antibiotic prescriptions between 2005-2006 were 146 per 1000 population. The most common category for which antibiotics were prescribed was respiratory conditions (41% of all visits in which antibiotics were prescribed between 2007-2009). There is large variation across the US and also within different health plans – some are much better than others in responsibly prescribing antibiotics for URTI.
It is important to note that the cost of resistance is much higher than the cost of prescribing antibiotics. In 188 patients with antibiotic-resistant infections in a single hospital, the lowest estimated attributable medical and societal cost was $13.35 million.
The US payment system for drugs is unique. Managed care is used in the US to describe a variety of techniques deployed by managed care organisations to reduce cost, control utilisation and improve the quality of care. In the US, the cost of antibiotics is a driver of prescriptions and their low cost means there is little incentive to improve management. HCPs often receive a higher reimbursement for prescription only items, such as antibiotics, compared to recommending symptomatic relief. It is important that incentives that promote the stewardship of antibiotics are introduced. This can be done through the introduction of financial incentives for symptomatic treatment of RTIs, lobbying for policies that introduce financial incentives to encourage development of novel antibiotics, and driving development and implementation of stewardship programmes. These programmes should invest in tools that make use of electronic models to support health-plan monitoring of appropriate antibiotic prescriptions, development of clinical decision-making tools and encouraging health-plan involvement to support such tools.
There is also a need to remove the incentives for inappropriate use by introducing revenue models that are not dependant on the number of prescriptions filled. Dr van der Velden noted that in the Netherlands prescribers are fined if they use antibiotics inappropriately – for example, if they have over-prescribed an antibiotic or had to resort to 2nd- or 3rd-line antibiotics.
With a pay-per-consultation model, prescribers in the US have to take into account patient satisfaction to drive repeat consultations. Prescribers may be concerned that if they do not prescribe an antibiotic, their patients will be dissatisfied with the consultation. HCP and patient education on the appropriate management of URTIs and the effectiveness of symptomatic relief options can aid in tackling these concerns.
Patients should be educated on symptom duration and appropriate management, therefore reducing pressure on HCPs to prescribe antibiotics.
Activations Targeting HCPS in Brazil
Presented by Professor Pignatari
In October 2015, the Spanish/Portuguese version of the GRIP website was launched in Brazil, while GRIP Brazil also presented at a number of conferences, including the Brazilian Society of Otolaryngology and Head and Neck Surgery national meeting and the Brazilian Society of Clinical Medicine meetings in São Paulo, Rio de Janeiro and Florianópolis.
At these conferences, 86- 99% of people attending considered GRIP to be an excellent initiative. A number of editorials were released in various publications including in the Revista da Sociedade Brasileira de Clínica Médica, the Journal of the Brazilian Society of Internal Medicine, which has a reach of 4,000 GPs. The GRIP launch was also publicised through an Anti-Antibiotic Day press release. Expert interviews were conducted with Professor Pignatari and Professor Mônica Menon – these interviews reached over 50 million viewers. In Brazil, targeting pharmacists to deliver the message of appropriate prescribing is vital, as it is not possible to dispense an antibiotic without prescription. Therefore, there is a need to guide patients in store on symptomatic relief alternatives. GRIP was introduced to pharmacists through 150 sales representatives who distributed educational materials to drive awareness of symptomatic relief alternatives and to announce the launch of the website. In 2016, GRIP Brazil will be focusing on pharmacy, prescribers and gaining publicity around the cause.
Prescribing Rates of Antibiotics in Primary Care in Ireland
Presented by Dr Noonan
In 2015, a report looking into primary care antibiotic prescription in Ireland was published. The results showed that there was seasonal fluctuation, with high prescribing of antibiotics during the winter season, while lower social economic communities are associated with higher antibiotic prescribing rates. The report highlighted that there is still a need for education: one in three Irish adults had taken an antibiotic in the previous year and a quarter of people believe that antibiotics prevent colds from developing into a more serious illness or help to speed up recovery. Some 37% of people also agreed with the statement: "by the time I am sick enough to contact or visit a doctor because of a cold I usually expect to get a prescription for antibiotics".
In Ireland a number of factors affect antibiotic prescribing rates. There is a mixed insurance model, with some patients getting full government cover, while other patients have to pay. There is currently a move towards universal healthcare. The most recent change was to provide free GP care to all patients aged under six years – which has dramatically increased the number of consultations in this age group. This demonstrates that parents are much more likely to take their children to see a doctor when it is free. It is not known yet how this will impact on antibiotic prescribing rates, particularly for URTIs.
To improve patient awareness around AMR, a campaign was developed. A website provided practical advice for patients on what they should do if they have a URTI: http://www.undertheweather.ie
Another issue being faced in Ireland is the use of specific antibiotics that are inappropriate for the condition treated. This is being addressed by clearer guidance on the appropriate antibiotic to treat various infections, with specific encouragement to use narrow spectrum antibiotics wherever possible. In 2016, Dr Noonan will continue to collaborate with organisations in Ireland, including the Irish College of General Practitioners, the Royal College of Physicians of Ireland and the Royal College of Surgeons in Ireland, along with public information campaigns to promote effective antimicrobial stewardship.
UK Antibiotic Awareness Week Activations
Presented by Dr Samantha Bradley
In the UK, AMR is part of the national health agenda and has been supported by a number of initiatives to tackle the problem. GRIP UK identified the importance of delivering an integrated approach to the GP, pharmacy team and patient. It developed initiatives to provide patient education on symptom duration to avoid GP visits, supported by GP and pharmacy education about why antibiotics are inappropriate for the majority of URTIs, and the availability of symptomatic treatment options.
"Telling people not to do something is much less effective than telling them to do something different Professor Oxford" Dr Bradley
Over the last four years a number of activations have been developed that have been led by the GRIP initiative and aims. In 2012, materials were developed that supported GPs in having effective patient consultations. In 2013, toolkits were mailed to GP surgeries and online training for pharmacy was launched via rbforhealth.co.uk. In the following year support materials were extended to cover pharmacy. In 2015, a meeting was held on alternatives to antibiotics for URTI. The meeting aimed to raise awareness of current programmes and to share best practice, to discover how to collectively achieve change and how this change can be measured.
In 2016, GRIP UK activities will focus on face-to-face training seminars. Some 50 free evening seminars will be hosted reaching over 3,000 pharmacy staff
More people visit an HCP to discuss their symptoms when it is made easier and cheaper to visit – in most cases this is because patients are looking for reassurance
Providing patients with education on symptom duration and more appropriate treatment choices (symptomatic relief rather than antibiotics) for URTI management needs to be a priority going forward
AMR as the Top Health Priority in the Netherlands
Presented by Dr Van Der Velden
In the Netherlands, the Dutch Minister of Health, Edith Schippers, has made fighting AMR the top priority of the Dutch EU presidency. Core aims related to this priority include: reducing inappropriate antibiotic prescribing by 50%, delaying spread of multi-resistant bacteria, increasing international collaboration and reducing the number of deaths due to bacterial resistant infections.
An expert group was established at the National Institute for Public Health and Environment and one of their aims includes continuous monitoring of the quality of antibiotic prescribing at the individual GP and/or practice level.
An action plan has been developed with the aim of carrying out national surveillance of antibiotic prescribing, with the objective of targeting HCPs with a below average quality of prescribing with education to reduce inappropriate prescribing